Happy 100th Birthday to You, Baltimore Painted Screens!
1913 -2013
history of screen painting
In the glory days of the painted screen (circa 1930-1950), over 100,000 painted screens adorned the windows of Baltimore City row houses. Nearly 100 screen painters would carry paint and brushes door to door, asking homeowners if they would like to have their screens painted; and they'd paint them right at their front door! This tradition was unique to Baltimore, Hon.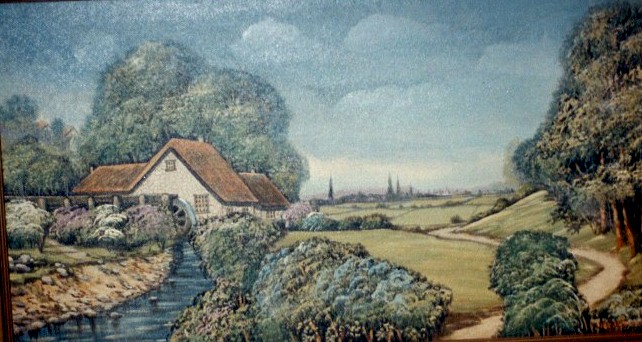 Magnificent painting by William Oktavec
The art of Baltimore window screen painting began in 1913 when grocer William Oktavec, later to become the most renowned screen painter, painted pictures of fruits, vegetables, and meats on the window screens of his city storefront to advertise his wares. His customers and neighbors noticed that the screen paintings kept them from seeing inside the store, yet they could see out just fine. One day, a neighbor asked Mr. Oktavec to paint her a cottage scene on her window from a calendar picture. The neighboring immigrants from the Old Country liked the screen paintings and the privacy they provided so much that the idea quickly caught on to paint the traditional red-roof cottage scene on many row house windows. The pictures dressed up the city streets. The country scenes not only reminded them of back home; but it also represented dreams of someday moving out of the city and into that little country cottage that adorned their city window screens.
Artist John Oktavec, third generation screen painter, carries on the 100 year old family tradition today, following in the footsteps of his grandfather William and his father Richard, but with sometimes with a contemporary twist.
Learn more about the Oktavec family tradtion at http://oktavecspaintedscreens.yolasite.com/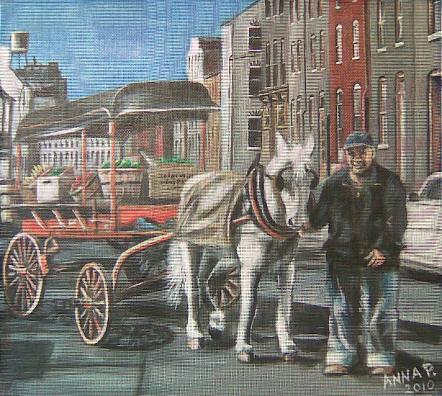 Window screen painting has is roots in old Baltimore, as did rowhouses with marble steps, street cars and arabbers. This screen brings back memories of days gone by.
Painted screens are reminiscence of the days when the "ice man" delivered heavy blocks of ice for the kitchen "ice box"; the coal truck dumped coal down the "coal shoot" in winter; street cars squeaked on the rails; produce was unloaded from boats at the local docks; arabbers sold tomatoes, bananas, strawberries, and watermelon from their piled-high horse-drawn carts; and the milk man, egg man, and bread man delivered to the front step.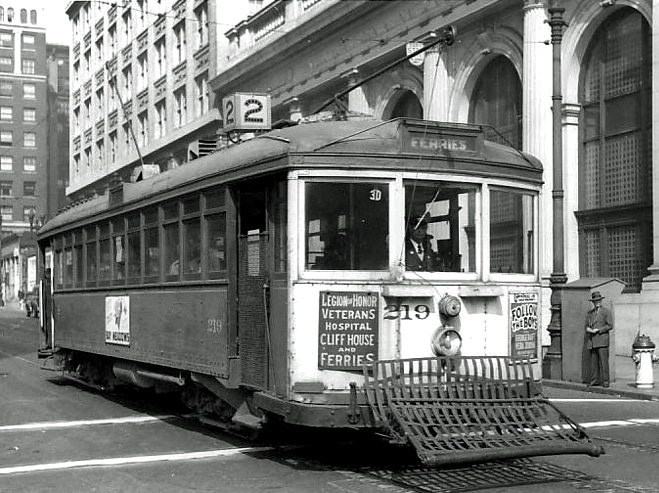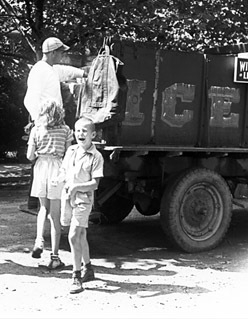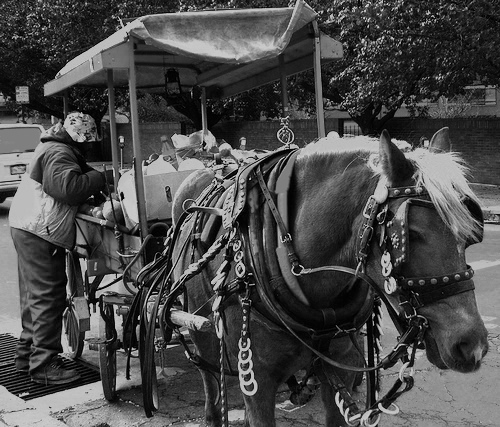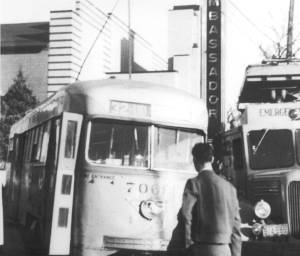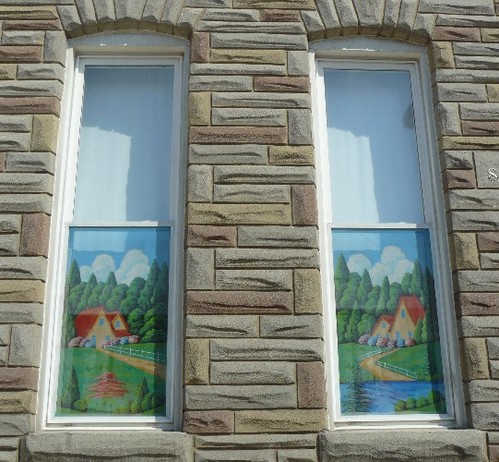 Painted screens in rowhouses with marble steps are a much of a Baltimore tradition as the shipping ports, steamed crabs, and Oriole's baseball, "HON."
And painted screens aren't just for city folk anymore.
Today, Anna paints screens by special order in her home studio.
Her original custom hand painted window screens celebrate a renaissance of the early 20th century Baltimore screens.
You can also purchase Anna's one-of–a-kind miniature framed screens and take a piece of Baltimore history home with you at one of the Events to Paint the Town or by contacting the artist.
See original painted screens in a wonderful rowhouse display and The Screen Painters documentary film at the American Visionary Art Museum in Baltimore.
Catch the essence of Baltimore Sity screen painting in this great little article about where it originated and where it's heading today.
Buy the documentary film "The Screen Painters" through Anna's Painted Screens or directly from the Painted Screen Society. Proceeds support the Painted Screen Society.org.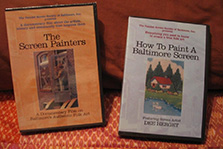 Visit the Painted Screen Society.org for more information about screen painting. The website is currently under construction and will be updated soon to celebrate the 100th anniversary of painted screens.
Become a Member of the Painted Screen Society!
Your tax-deductible annual membership dues will support this uniquely Baltimore artform and help keep screen painting alive for future generations to enjoy!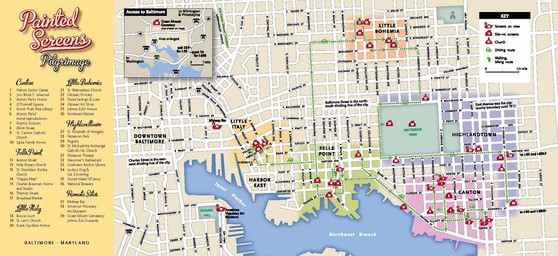 Buy the official "Painted Screens Pilgrimage" Driving and Walking Tour Brochure through Anna's Painted Screens for just $1 to help support the Painted Screen Society.org.
Have your screens painted by one of today's screen painters!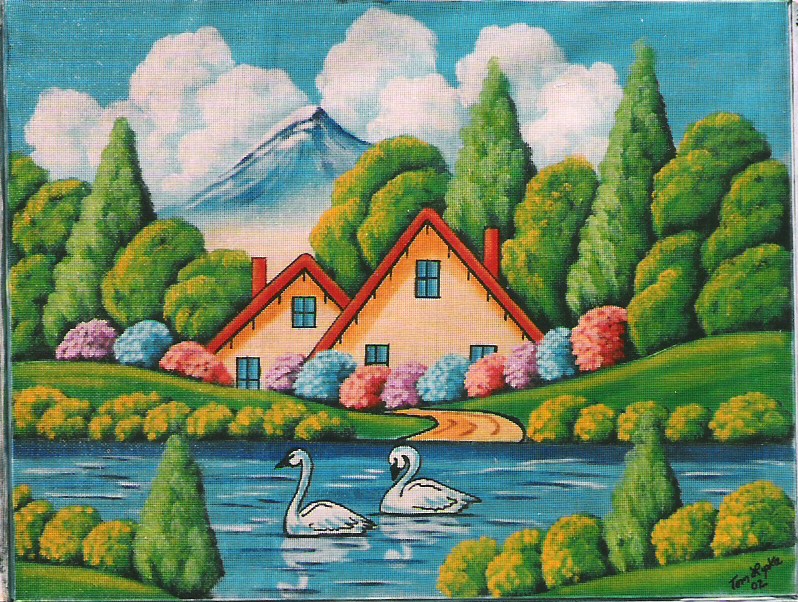 Familar red roof bungalow by contemporary artist Tom Lipka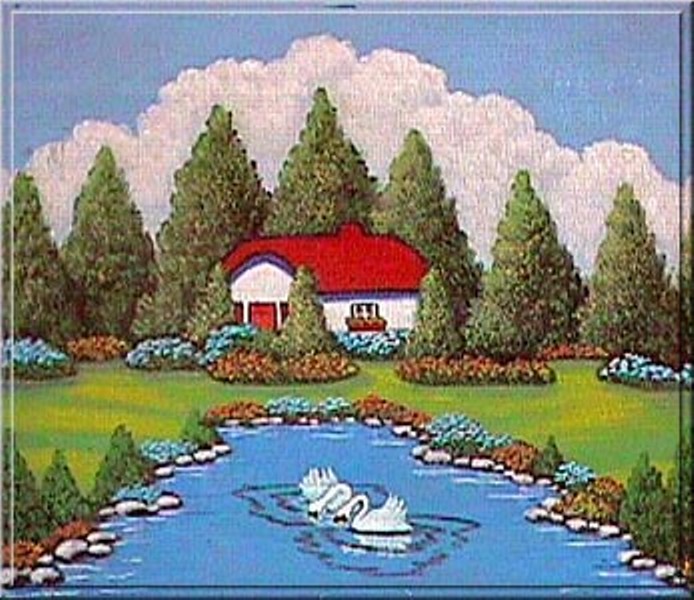 One of hundreds of window screens by Dee Herget with cottage and swans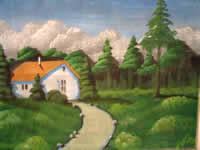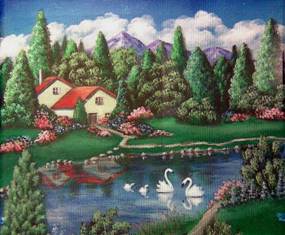 A version of the country cottage by Anna of Anna's Painted Screens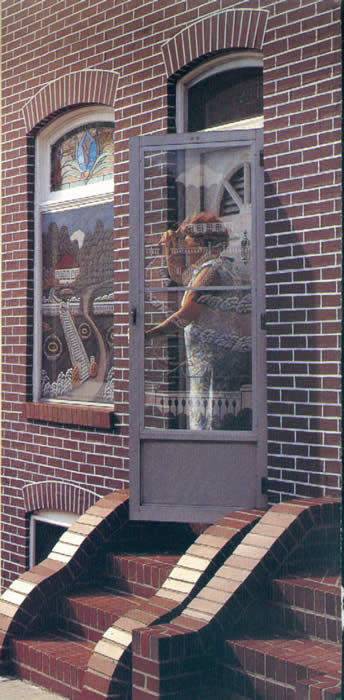 Photograph from the official site of Screen Painters. The Painted Screen Society Inc website is currently under construction and will be up and running to celebrate the 100th anniversary of painted screens.