artist's bio
Anna Pasqualucci, window screen painter
"When I was a little girl, I remember riding through Baltimore city in my dad's 1960's Dodge. My dad would point out the colorful pictures on the windows of row houses. I would strain my neck and intently search over the car dashboard for the mesmerizing painted screens, anxious to see what the next window and then the next would have painted on it. Years later, the impression of those wondrous screens remains.
Today, it's unfortunate, and even a bit sad, that visitors seeking out the old painted windows in southeast Baltimore find very few decorated screens. I'd love to see this wondrous Baltimore art make a comeback in the new millennium!"
– Anna P.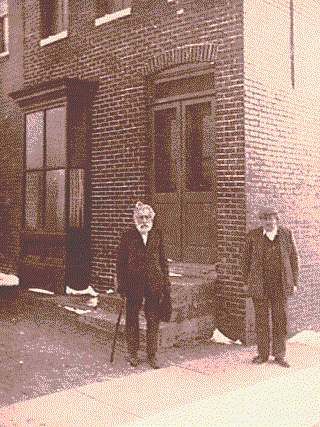 Great grandfather delivered his German breads and baked-goods by horse and cart.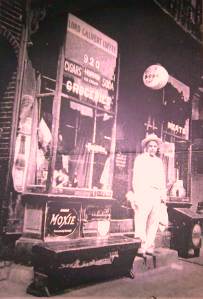 Grandfather's Storefront
Hanover Street, South Baltimore
My family's roots are in the city, even though I grew up in Linthicum, just minutes outside of town. My mother's parents emigrated from Russia, settled in Baltimore, and opened a grocery store on South Hanover Street in the early 1900s. My grandfather had also worked at the Domino Sugar Refinery. My paternal great-grandparents emigrated from Germany, settled in what is now Curtis Bay, and ran Zuelke's Bakery shop on Pennington Avenue and Cedar (now Ceddox) Street. In those days, they raised chickens, and had a horse and a cow. Their property was then considered to be Anne Arundel County. The county line was later changed, placing their homestead within Baltimore City limits. Both my parents were City born and raised.
Two of my favorite stories are about my great-grandfather's bakery delivery route and about how my grandparents met. Great-grandfather Zuelke delivered fresh breads and baked goods by horse and cart. On his way home, he'd stop off at the local tavern for some refreshment. After a few drinks, he'd climb into the wagon, and the designated driver, his horse, would see him safely home. My grandfather, born in New Hampshire, was stationed at the Curtis Bay Coast Guard Yard when he met my grandmother. He said she was scrubbing the house steps when he first laid eyes on her. He could see that she was a "hard worker" and that gave him reason to marry her, or so his story goes.
As for me, I grew up in Linthicum, graduated Andover High School, and earned my bachelor's degree in Biology at Hood College, Frederick, MD. In college, I was torn between studying art (drawing in particular) and my love for the environment, plants, and animals. I chose science over art because it seemed to be more practical. I enjoyed working in cancer, agricultural, and pharmaceutical research labs for twenty-five years, until arthritis that started in my hands prevented me from doing lab work. So now although it's difficult for me to hold a pencil to draw; I discovered that I can gently cradle the paintbrush to make delicate brush strokes on those marvelous screens, like the ones I had so admired as a child. Screens are forgiving and flexible, allowing me, at least for the time being, to paint. Solid canvas and hard surfaces are quite a different story and hard on my hands. Like many other screen painters, I've had very little formal art training and I am for the most part self-taught. I cling to every word of the current master screen painters when they offer tips and advice. After having raised two wonderful children and having to retire from the laboratory, I'm embracing my new passion for window screen painting. It's therapy for the hands and soul.
Currently, Anna is an active artists' board member of the Painted Screen Society.org. She has taught screen painting classes in the Anne Arundel County Public Schools and for various community organizations and offers seasonal screen arts classes at the Chesapeake Art Center. When able, she enjoys sharing her art at local Farmers' Markets and craft shows. Most of all, she loves transforming her customers' dreams and ideas onto their own personalized house window screens. "Making people smile by painting places and things that are near and dear to their hearts is the best reward."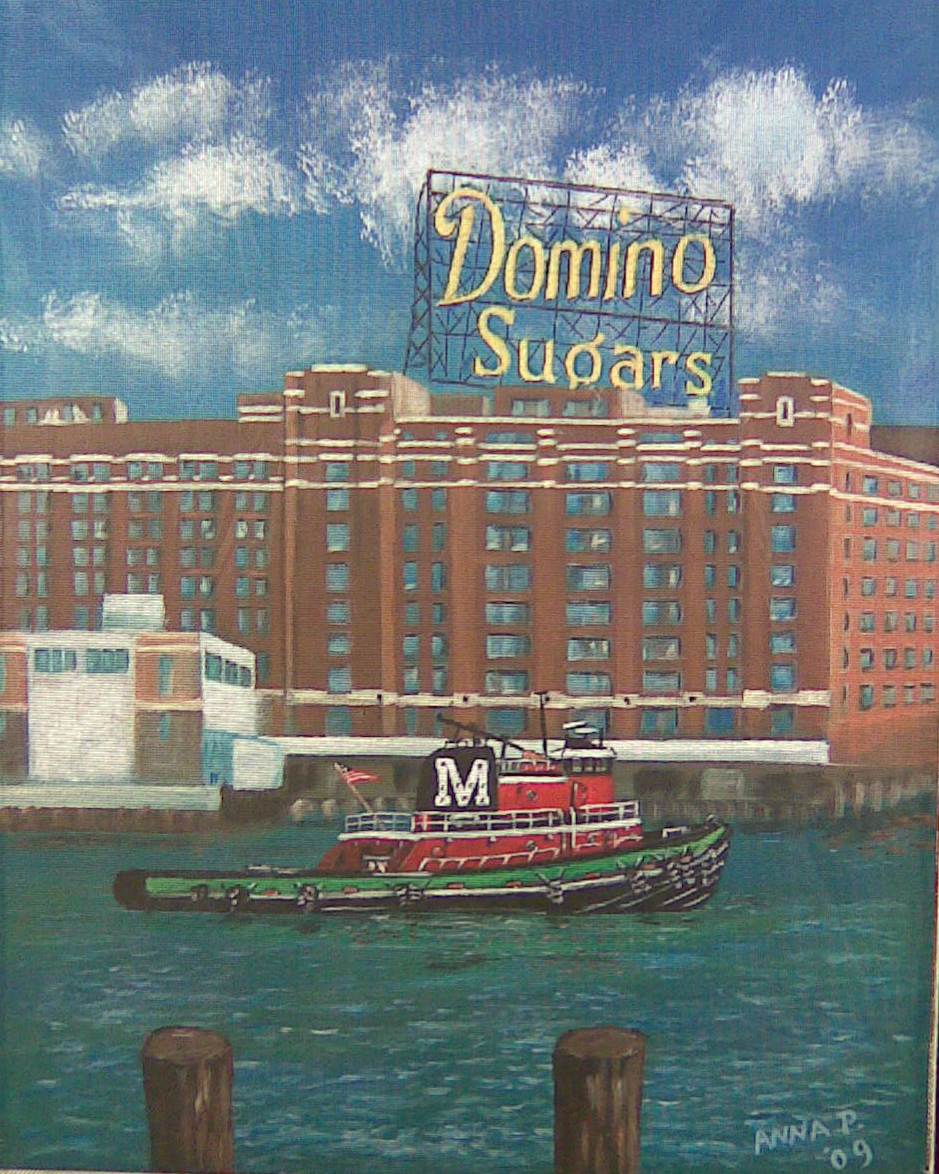 Painted Screen of Domino Sugar, a Baltimore City landmark that had provided a livelihood to many Baltimoreans such as my Grandfather and family doctor.
Articles about the Artist